Leonard F. Swift Chosen "Grand Marshal"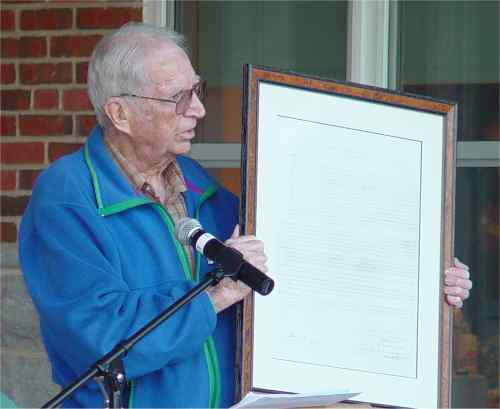 Leonard Swift presenting the town with a framed copy of the original
'Act to Incorporate' at the Proclamation Day Ceremony in 2004.
A Hinsdale native, Leonard has for many years researched and written excerpts of histories for the people of Hinsdale Massachusetts.

He has recently written a Heritage book of Hinsdale.

The book is available
with a price of $20.00.
For ordering make checks payable to HH BOOK and mail to:
HH BOOK
PO Box 93
Hinsdale, MA 01235.
or from our online store using the mail-in order form.
Leonard is currently working on The Early History.
He is a 1933 graduate of Dalton High School and is professor emeritus of education at Hofstra University School of Education, where he specialized in training history and social science teachers.
He is a member of the Dayz Committee and was pivotal in the work to prepare the town's Dayz Super Week, July 17-25.
Hats off to Leonard Swift for his hours of research and devotion for the town of Hinsdale that has helped make it the special place that it is today.
---